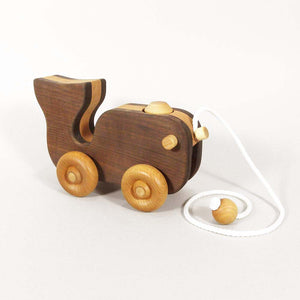 Delmar Eby
Whale Pull Toy
Regular price
$53.00
$0.00
Unit price
per
Thar she blows! Spray (in the form of a stylized hand-turned wooden representation) rises as the whale advances through horizontal surfaces of the landlubber's world: the removable dowel is raised in response to the off-center rotation of the disc attached to the front axle. This product is around 3x5x8".
Handmade Wooden Spouting Whale Pull Toy, of any of the non-splintering hardwoods including Sugar Maple, Cherry, Oak and Walnut, all native to Middle America. Sturdy and durable, with rounded edges and child-safe mineral oil finish. Clean if desired with warm soapy water, then rinse and air dry. Re-oil as desired, as one would a wooden utensil.
Made in America in London, Kentucky. Woods may vary from those pictured.
---